Online Proctoring for Continuing Education Exams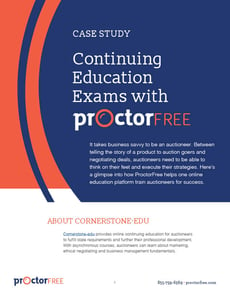 Ensuring continuing education for skilled professionals is critical in nearly every industry. But managing this process online can be challenging for organizations that have historically relied upon in-person testing centers and exam proctors.
Read our case study, Continuing Education Exams with ProctorFree, to learn how one highly-specialized professional organization successfully leveraged online proctoring to not only bolster their CE program, but also increase their organization's reach.
You'll learn:
How to enhance the online learning and test-taking experience for your members
How to streamline the test-taking process
How to bolster trust and confidence in your organization's online exam process
Complete the form on this page to download the case study now.