Cornerstone Healthcare Training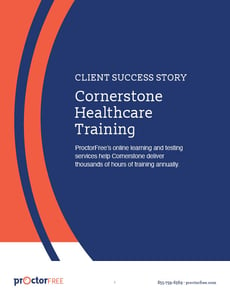 Continuing education and ongoing training are critical elements for healthcare providers.
In an industry with limited infrastructure to support online training for caregivers, Cornerstone Healthcare Training sought a partner with the experience and resources to launch a successful and secure online training program.
Download the case study, Cornerstone Healthcare Training, to learn how our best-in-class online proctoring solution:
Navigates multiple regulatory hurdles and requirements
Delivers a seamless and secure online proctoring experience
Provides best-in-class customer support to users
Download the case study now to learn more.