Criminal Defense Training with ProctorFree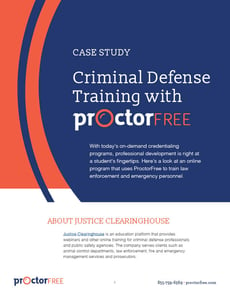 Justice Clearinghouse is a learning platform that provides webinars and other online training for criminal defense professionals and public safety agencies. The company needed an online proctoring solution to service the training and assessment needs of their clients which include law enforcement, fire and emergency management services, prosecutors, and animal control departments.
Read our case study, Criminal Defense with ProctorFree, to learn how Justice Clearinghouse worked with ProctorFree to scale from a pilot program to meet their needs of identity management for exams offered at an on-demand basis.
In this case study, you'll learn:
How to leverage online proctoring to train law enforcement and emergency personnel
How to keep costs low when getting started with online proctoring
How to streamline support requests and take the burden off of your internal team
How to scale easily with online proctoring
Complete the form on this page to download the case study now.