Real Estate Continuing Education Exams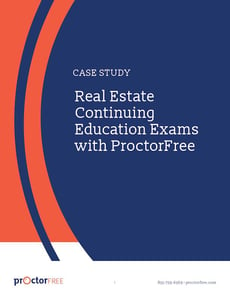 When the Texas Real Estate Commission (TREC) began requiring exam proctoring for real-estate courses in the state, Learn Texas Real Estate Online (LTREO) sought out a solution that provided a flexible online exam experience that wouldn't add stress to an already high-stakes exam for test-takers.
Since 2017, ProctorFree has met LTREO's need for on-demand proctoring, providing simple, convenient, and stress-free exam proctoring.
Download the case study, Real Estate Continuing Education Exams with ProctorFree, to learn how our best-in-class online proctoring solution:
Navigates regulatory compliance and increased exam security for real estate educators
Supports clients needs for scalability
Delivers on-demand proctoring solutions
Provides best-in-class customer support to users
Download the case study now to learn more.