Best-in-Class Online Proctoring in Canvas LMS
Canvas + ProctorFree = A Perfect Match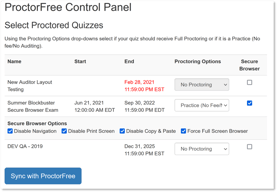 The Canvas Learning Management System (LMS) is a powerful tool designed for powerful people, Educators out there changing the world and positively impacting students. Canvas doesn't get in your way, it facilitates learning by offering an engaging and thoughtfully designed user experience. ProctorFree is designed with the same intent, to supplement, enhance, and never get in the way of Students, Faculty, Staff, and Administrators working with and using the Canvas LMS.
ProctorFree can be made available on a per-course or institution wide basis. Whether you need to restrict access to a small set of faculty, or quickly roll something out, ProctorFree integrates in a way that is easy to manage. That user experience is carried through all the way and most importantly to the student taking a proctored exam. ProctorFree is as easy to use as tools such as Zoom or GoToMeeting. Should a test taker, or anyone, have a question, ProctorFree has world-class support available. You should never have to wait for help or to get an answer to your questions.
You'll Get (and more):
A seamless integration with ProctorFree in your Canvas LMS instance
Guidance on how to streamline the test-taking process and communicate to both faculty & students
How to bolster trust and confidence in your organization's online exam process and reach a wider (sometimes global) audience
Competitive pricing models that support institution pay, student pay, per-student licensing and unlimited use options
Free onboarding and training for life along with world-class customer service and technical support
What are you waiting for? Fill out the form on the page and schedule your demo today.