Blackboard LMS Proctoring
Proctoring Designed for Blackboard Students, Instructors, and Administrators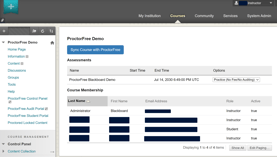 The Blackboard Learning Management System (LMS) has supported educators and students on a global basis and throughout its evolution there has always been a marketplace of building block tools and add-ons designed to support and enhance the education experience.
ProctorFree has supported a seamless integration with Blackboard for nearly a decade. ProctorFree is dedicated to providing support for institutions transitioning to the Ultra experience, while also maintaining support for any institution that may still be using the Blackboard Building Block experience.
ProctorFree can be made available on a per-course or institution-wide basis in the Blackboard LMS. Whether you need to restrict access to a small set of faculty, or quickly roll something out, ProctorFree integrates in a way that is easy to manage.
A seamless user experience is carried through all the way, and most importantly, to the student taking a proctored exam. ProctorFree is as easy to use as tools such as Zoom or GoToMeeting. Should a test taker, or anyone, have a question, ProctorFree has world-class support available. You should never have to wait for help or to get an answer to your questions.
When you complete the form on this page, you'll get more info on...
ProctorFree support for users of both Building Block and Ultra experience
Training on how to streamline the test-taking process and communicate to both faculty & students
Competitive pricing models that support institution pay, student pay, per-student licensing, and unlimited use options
Free onboarding and training for life along with world-class customer service and technical support
What are you waiting for? Fill out the form on the page and schedule your demo today.