Online Proctoring for Moodle LMS
Secure Proctoring Solutions for Leading Open-Source LMS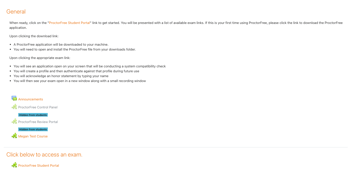 The Moodle Learning Management System (LMS) is a free and open-source tool designed for institutions of all sizes and industries, with a vast marketplace of extensions and integrations to meet their individual needs.
Utilized globally by both educational and commercial organizations, Moodle's flexible nature helps organizations build a powerful user experience for every user, including administrators, instructors, and test-takers.
Moodle understands that no two institutions are exactly alike, and provides the flexibility to build to their specific needs. ProctorFree is designed with the same intent, to meet the unique online-proctoring needs of any institution by providing a world-class product combined with exemplary support.
ProctorFree is available on a per-course or institution-wide basis. Whether you need to restrict access to a small set of faculty, or quickly roll something out, ProctorFree integrates in a way that is easy to manage.
That user experience is carried through all the way and most importantly to the student taking a proctored exam. ProctorFree is as easy to use as tools such as Zoom or GoToMeeting. Should a test taker, or anyone, have a question, ProctorFree has world-class support available. You should never have to wait for help or to get an answer to your questions.
Our best-in-class online proctoring services integrate seamlessly with Moodle LMS. As a customer of ProctorFree and Moodle, you'll get:
Guidance on how to streamline the test-taking process and communicate to both faculty & students
How to bolster trust and confidence in your organization's online exam process and reach a wider (sometimes global) audience
Competitive pricing models that support institution pay, student pay, per-student licensing and unlimited use options
Free onboarding and training for life along with world-class customer service and technical support
What are you waiting for? Fill out the form on the page and schedule your demo today.